About the sign-in problem with PlayMemories Online app for Android™
In the PlayMemories Online app for Android™, a problem has been confirmed where a user sign-in does not complete and a message stating "We''ll be back soon" is displayed.
We are currently looking into the problem.


For a temporary solution, please try the following.


1. Display the [Settings] > [Apps & notifications] > [Apps] screen.
2. Tap [PlayMemories Online].
3. Tap [Storage] > [Clear Data] and when [Delete app data] is displayed, tap [OK](*).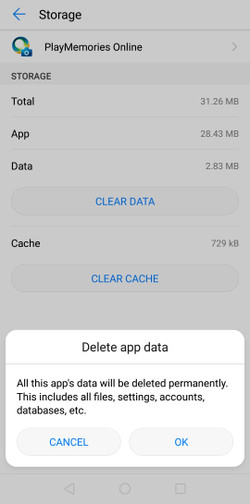 * Images uploaded to PlayMemories Online will not be deleted.
4. Restart the PlayMemories Online app and sign-in again.
We apologize for any inconvenience this may cause.